Massage Therapy Manuals
Ariana Vincent, nationally certified massage therapy instructor and founder of the Ariana Institute for Wellness Education, aspires to share her knowledge and experience with massage therapists, bodywork professionals and the world.
The Ariana Institute's Massage Manual Series is designed to help deepen the knowledge of current massage therapists and introduce new massage therapists to the world of massage and bodywork. This manual series has been over 16 years in the making and is a monumental achievement for the Ariana Institute. It is a perfect source of deep study for massage therapists and those seeking to expand their understanding of therapeutic modalities to further cultivate their practices!
The Ariana Institute's Massage Manual Series features:
Each manual incorporates detailed protocols, photos, links to online videos, marketing strategies, personal stories, and resources to encourage a comprehensive understanding therapeutic modalities beneficial for yourself and your massage practice. Featured topics within the manuals are also available as NCBTMB approved online CE courses through the Ariana Institute.
To read the forewords and personal stories featured in the Massage Manual Series, visit https://www.arianainstitute.com/blog/.
For additional information about the Ariana Institute's online continuing education and MTI courses visit https://www.arianainstitute.com/ce-online/.
MANUAL DESCRIPTIONS AND DETAILS
Advanced Massage Therapy Techniques
---
Deep Tissue Massage Therapy
---
Head, Hand, and Foot Massage Therapy
---
Marketing and Practice Building for Massage Therapists
---
Medical Massage Therapy
---
Mind-Body Therapy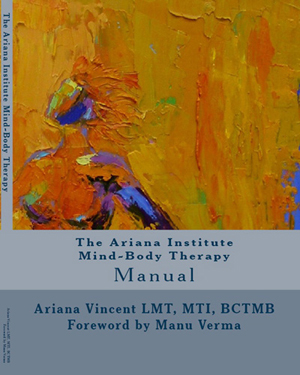 ---
Self Care for the Massage Therapist
---
Techniques in the Spa World